Turkey
From "Mahdi" dialogue to mercenaries … How does Turkey recruit Al-Zindani?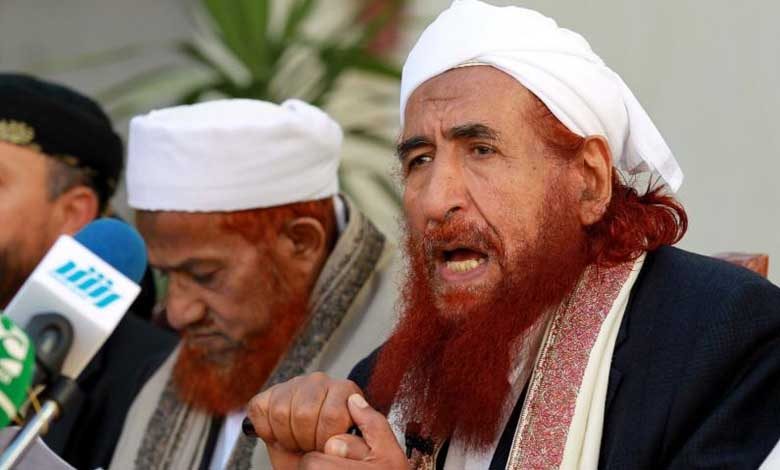 ---
Documents show that Turkish President Recep Tayyip Erdogan recruited an extremist chief in Yemen through a company that operates many masks in Yemen's weather-beaten country.
The Swedish website Nordic Monitor, specializing in Turkish affairs, said it had obtained documents proving that the Turkish military company "Sadat" had been able to gain the support of the leader of the Reform Party, Abdul Majid Al-Zindani.
The website said Erdogan was investing heavily in the Brotherhood terror organization seeking more influence in Yemen, noting that he sent his chief military adviser to Sana'a in 2014.
That year, former officer and advisor Adnan Tanrieverdi met with the head of the Yemeni Brotherhood on behalf of a non-governmental organization, a method Ankara uses to promote its expansion plans in the region.
Nordic Monitor said that he obtained internal documents from Sadat, which he said was actually the paramilitary force of Pro-Erdogan.
The force led by Tanriverdi has become a tool for Ankara to provide training and logistical support to terrorists in Turkey, Syria and Libya.
The disclosure comes weeks after Al-Zindani arrived in Turkey, where he joined members of his family, who are working to promote the Brotherhood and other elements of terrorist organizations.
The Syrian Observatory for Human Rights published in 2020 that Turkey is working at full speed to transfer Syrian mercenaries to Yemen via Qatar.
He said that the Turkish intelligence agents in Afrin, Syria, formed an operations room to organize the transfer of Syrian mercenaries to participate in the war in Yemen.
Extension of influence
Turkey, which already appears to have started infiltrating Yemen under various pretexts, wants to expand her ambitions and influence to the Bab al-Mandeb region and the Gulf of Aden, where it maintains the largest military base in neighboring Somalia.
The meeting between representatives of the Turkish team and Al-Zindani was held in the capital of Yemen from February 19 to 20, 2014.
Ten people from both sides attended the minutes of the meeting. He said that Al-Zindani said, "Turkey led by Erdogan will soon rule the Islamic world."
Al-Zindani added that Erdogan is currently "cleaning up the battlefield, indicating that the Turkish president is preparing for a major operation that will take place in the future."
The minutes did not include all the details of the meeting, but he indicated that some notes were not written and were transmitted orally and sensitive to be leaked to the media.
Strange details
Adnan Tanriverdi resigned his post (Erdogan's chief military adviser) in January 2020, but he continued to advise him, and he later admitted that he had met Al-Zindani.
But what the Turkish official said was odd that he had discussed the "expected Mahdi" with the head of the Brotherhood.
He continued, "I asked him (Abd al-Majid) if there would be a union between the Islamic countries? He said there would be a union. I asked him, 'When will this happen- he? "He replied," When the Mahdi comes. "
But far from this unusual speech, the Nordic Monitor website claims that Abd al-Majid al-Zindani has built strong ties with activists in Turkey for many years, especially since the era of the former president. Necmettin Erbakan, so the latter helped him establish the University of Faith in Turkey, Sana'a.
Faithful to Erdogan
The New York Times exposed Abdul Majid's financial dealings with activists in Turkey, calling his organization an "extremist production factory."
Al-Zindani has appeared in Pro-Erdogan's media often, and even said in an interview that he "pray for Erdogan".
During protests in the Arab world in 2011, Al-Zindani called for "jihad in Syria" to overthrow Syrian President Bashar Al-Assad, which Turkey was seeking at the time.  The Brethren and Turkey, the both sides consider that the chaos as an opportunity to carry out their agenda, according to the report.
Although Al-Zindani moved to Turkey on November 20, 2020, his family and followers predate him and work closely with the Erdogan government to promote the Brotherhood and other terrorist organizations.
The son of Brotherhood leader Abdullah Al-Zindani has appeared in Turkish media from time to time.
Yasin Aktay, Erdogan's adviser for Turkey's relations with Arab and Islamic countries, was seen alongside Abdullah Al-Zindani when he married Abdul Majid's grandson in Turkey in February 2016 .