Turkey
Bloomberg: Erdogan's Re-Election as Turkish President Is Not a Sure Bet for These Reasons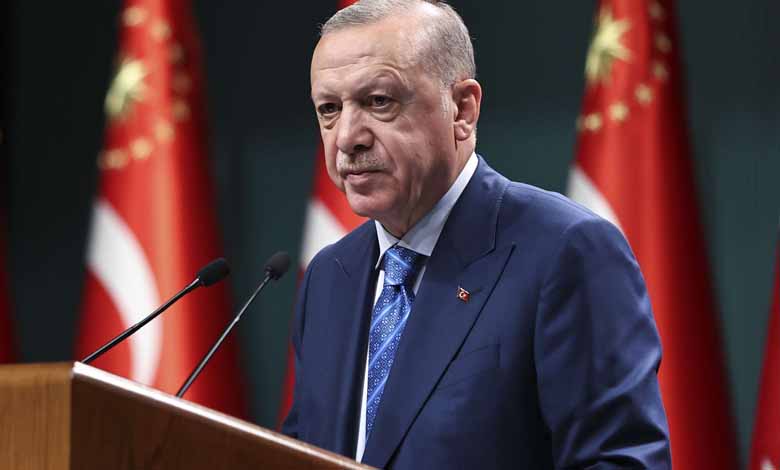 ---
While polls suggest that a likely presidential race in May could jeopardize his 20-year rule, the longest in Turkish history, President Recep Tayyip Erdogan is seeking another term.
Bloomberg News reports that: Erdogan, who wields near-absolute power in Turkey, will face stiff competition even though Ankara has recast electoral rules to give him and his AKP an edge, while critics say he is relying on the courts to exclude strong rivals and is violating the constitution by running again.
Erdogan, who will turn 69 on February 26, faces a vote on his "authoritarian" leadership, as Bloomberg put it, after Turkey effectively turned into a presidential system with sweeping powers in 2018.
Turkish opposition parties rarely coordinate with each other, but this time Erdogan faces a serious challenge from the six-party opposition bloc, which includes former allies who helped him build his political empire, according to Alhurra.
According to the source, the vote comes as Turkey is struggling with the worst cost-of-living crisis in two decades. Although Erdogan remains the most popular politician in Turkey, his Justice and Development Party (AKP) has lost support among the poor, who have traditionally been among its strongest supporters.
The leaders of the opposition bloc vow to run the country through consensus, while Erdogan attacks them by saying they will bring Turkey back to the bickering within coalition governments, which produced decades of political and economic instability before he came to power.
In pre-election pledges, Erdoğan promised to protect citizens' purchasing power by significantly increasing pensions and civil servants' wages, as well as raising the minimum wage.
The elections were originally scheduled to be held by June 18, but Erdogan, who has the power to call presidential and parliamentary elections, has indicated that they may be held in May, hinting that May 14 may be the polling day.
The date comes soon after the government plans to allow more than two million people to retire early and will employ hundreds of thousands more in the public sector.
While the six-party alliance has not yet announced its presidential candidate, Kemal Kilicdaroglu, the leader of its largest party, has positioned himself in the lead, with Kilicdaroglu leading his Republican People's Party (CHP) to defeat Erdogan's party in Turkey's largest city during local elections in 2019.
But Kilicdaroglu is unpopular, like Istanbul mayor Ekrem İmamoğlu, who was convicted in December of insulting state officials, sentenced to two years and seven months in prison, and had his sentence upheld on appeal, preventing him from practicing politics.
Erdogan's critics are therefore accused of influencing the judiciary to prevent powerful rivals like İmamoğlu from running, a claim denied by the government.
Polls suggest that Erdogan's party and its junior partner, the Nationalist Movement Party (MHP), may have difficulty maintaining the parliamentary majority they won in the last elections in 2018.
The Development and Nationalist Movement Alliance will compete with the Peoples' Democratic Party, which advocates for the rights of Turkey's Kurdish minority, the third-largest bloc in parliament.
The HDP did well in the June 2015 elections, depriving Erdogan's party of its parliamentary majority.
A court is considering disbanding the HDP on separatist charges related to alleged links to Kurdish militants, charges the party has denied.
Critics of the Turkish president say he cannot run again; Because the constitution limits presidents to two consecutive 5-year terms, unless the parliament requires early action.
But Erdogan administration officials say he is only serving his first term, as he was first elected in 2018, just a year after a referendum turned the country into a new presidential system.
Erdogan's government has won parliamentary approval of the amendments, which take effect on April 6, reducing the total votes a party must win to 7% of 10%.
At the same time, the new rules make it difficult for smaller parties to win seats on their own, as these changes fill a "loophole" that would have allowed the HDP to win more seats in parliament.
In return, the same rules exempt the president from prohibiting ministers from using state resources to organize campaigns or attend gatherings.