Society
Napoleon's hat for sale at auction with expectations of achieving a high figure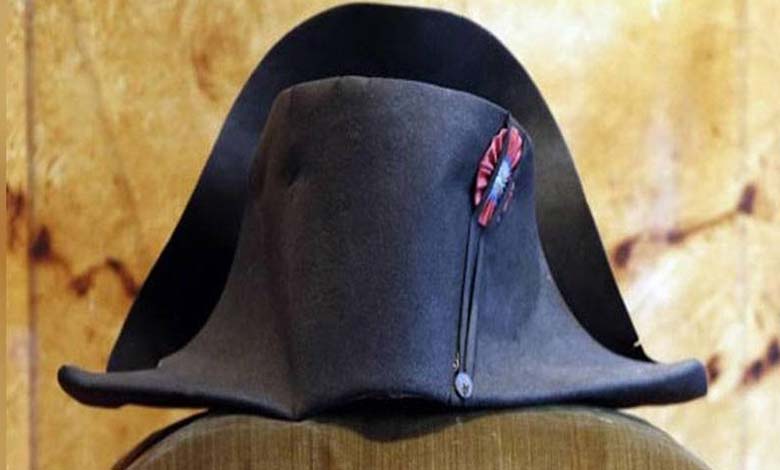 ---
It is expected that one of the broad black hats worn by Napoleon Bonaparte when he ruled France in the 19th century and waged wars in Europe will be sold for over 600,000 euros (650,000 dollars) at an auction on Sunday.
Other historically significant items in the auction include a collection of Napoleon memorabilia owned by industrialist Jean-Louis Noizay, including a silver plate looted from Napoleon's carriage after his defeat in the Battle of Waterloo in 1815.
The collection also includes a wooden decoration case he owned, along with silver razors, a toothbrush, scissors, and other personal accessories.
The distinctive faded black hat is the star piece, valued between 600,000 and 800,000 euros (650,000 to 870,000 dollars).
While other officers typically wore their hats with the wings pointing from front to back, Napoleon wore his with the edges toward his shoulders, making it easier for his forces to identify the military general and statesman in battle.
Jean-Pierre Osenat, President of Osenat Auction House, said, "For those who love Napoleon memorabilia, obtaining a hat is the holy grail. There are about 20 original pieces, and around 15 preserved in museums, so there are about 4 or 5 pieces in the hands of collectors."
The hat being offered for sale was first recovered by Colonel Pierre Bayon, Napoleon's supply officer and one of his companions in many battles, including the Battle of Waterloo, according to the auction sellers.
The hat then passed through several hands before Noizay acquired it.
The businessman spent over half a century assembling his collection of memorabilia, firearms, swords, and Napoleonian coins before his death in 2022.