Arabian Gulf
Palestinian and Israeli sources: Qatar would soon normalize ties…$ 30 million to buy the silence of Abu Mazen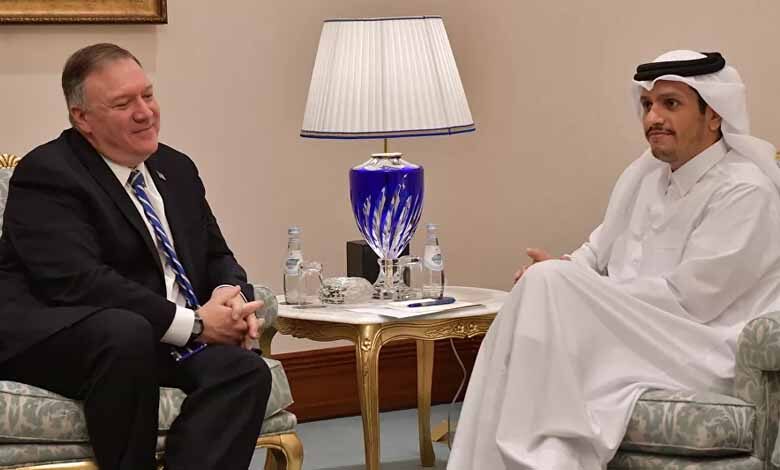 ---
 Palestinian Authority President Mahmoud Abbas visited Qatar when ties between the two parties are stressed due to Qatar's strong support for Hamas, which increases the division and subdivides Palestinians' ranks.
Abbas's visit came after normalization agreements between Israel and the United Arab Emirates, Bahrain, Sudan and Morocco, and sources relates that Emir of Qatar Tamim bin Hamad Al Thani has informed the Palestinian president of its intention to normalize ties with Israel, while the Qatari government is still trying to deny this.
Eddie Cohen, an Israeli journalist from the Jews of Lebanon, said that Qatar would soon normalize ties with Israel and inform Mahmoud Abbas of his next steps. He also added that Qatar's Emir had asked the Palestinian president to treat Qatari-Israeli normalization in the same way as Moroccan normalization, far from the principle of betrayal and attack, as happened with normalization of the United Arab Emirates and the Gulf.
عاجل: قطر ستطبع قريبا جدا وقامت بإطلاع محمود عباس بخطوتها التطبيعية مع اسرائيل في المستقبل . أمير قطر طلب من عباس التعامل مع التطبيع القطري الإسرائيلي نفس المعاملة التي تعامل بها مع التطبيع المغربي (سكوت) بعيدا عن مبدأ التخوين والهجوم كما حدث مع التطبيع الاماراتي والخليجي.

— إيدي كوهين אדי כהן ?? (@EdyCohen) December 14, 2020
باحث اسرائيلي يقول أمير قطر اعطى محمود عباس الملايين من الدولارات ليشتري صمته https://t.co/IieTuPHTIW

— إيدي كوهين אדי כהן ?? (@EdyCohen) December 14, 2020
Besides, the Palestine News Network declared that Mahmoud Abbas has reassured Tamim bin Hamad and has shown ready to welcome normalization, contrary to his position towards the Gulf States, that he accuses them of treason, in exchange for receiving 30 million dollars from Qatar.
#عاجل : #محمود_عباس يطمئن أمير #قطر #تميم_بن_حمد إستعداده الترحيب فور تطبيع #قطر مع #اسرائيل مقابل أموال لعباس وعائتله بـ 30 مليون دولار أمريكي .
وكان عباس رحب بالسلام بين #اسرائيل و #المغرب بعكس موقفه من دول الخليج التي اتهمها بالخيانة#فلسطين #السعودية #الامارات #البحرين #مصر pic.twitter.com/dkaUUN2uSH

— شبكة فلسطين للأنباء (@shfanews_net) December 14, 2020
With its intention to normalize ties with Israel, and the presence of reports that an Israeli office would be reopened in Doha next year, the Qatari regime may leave its Iranian ally to achieve normalization.
مصدر اسرائيلي: #قطر ستتوسط بين #حماس و #إسرائيل لإتمام صفقة المفقودين في #غزة وستطبع مع اسرائيل تدريجيا وأنباء عن اعادة فتح مكتب إسرائيلي في #الدوحة العام المقبل

— روني شالوم ?? Ronny Shalom (@Ronnyshalom) December 14, 2020
Also, Palestinian sources have revealed that Abbas wants Qatar to provide financial assistance to the Palestinian Authority after the economic crisis due to the coronavirus pandemic's emergence. They added that he seeks to support Qatar for its initiative to hold an international Middle East peace conference next year.
They also showed that Abbas knows that Qatar, which has good relations with the United States and Israel, could advance the idea of international dialogue. He also wants Qatar to use its close relations with Hamas to end the rivalry between Fatah and Hamas.
It should be noted that last month Abbas visited Jordan and Egypt, where he gathered the King Abdullah II and President Abdel Fattah Al-Sissi, and they discussed the plan to hold an international conference for peace in the Middle-East.